With a focus on investing in commercial real estate for Prudential's institutional clients, Prudential Real Estate Investors offers you the opportunity to join a global organization and learn the commercial real estate industry from the ground floor up.

From competitive compensation and benefit packages to our exciting work environment and the renowned strength of our parent company, Prudential, we can truly help put your career on the fast track.

PREI's specialized operating units offer a broad range of real estate investment and management services in the United States, Europe, Asia and Latin America.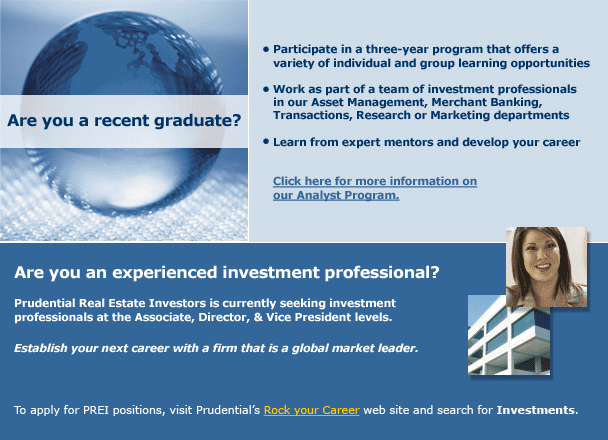 Prudential recruits, hires, trains, promotes, and compensates individuals, and offers them access to the benefits and privileges of employment, without regard to race; color; creed; religion; age; gender; gender identity, including expression of gender identity (consistent with applicable law); sexual orientation; marital status; domestic partnership status; pregnancy; national origin; physical or mental disability; citizenship status; Veteran's status; military obligation; or any other basis that is protected under applicable law.





Privacy

  |  

Terms and Conditions

 
© Copyright 2013 Prudential Financial, Inc., Newark, NJ USA. All rights reserved.
Prudential Investment Management is a business of Prudential Financial.
Prudential Financial, Inc. of the United States is not affiliated with Prudential plc. which is headquartered in the United Kingdom.


Prudential is authorized to transact business in all U.S. states and the District
of Columbia. Product availability varies by state and country.